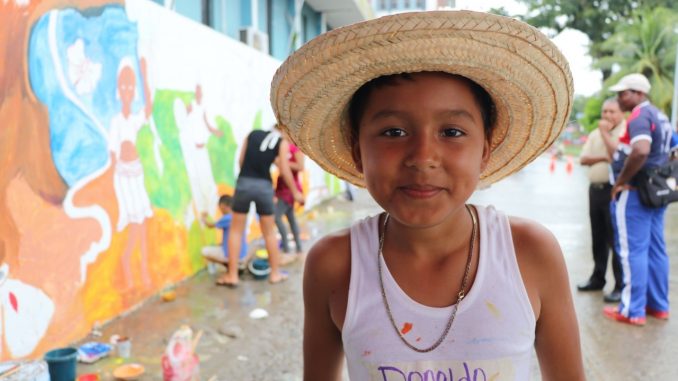 Save the Children y FUNARTE inauguraron mural realizado por 40 niñas y niños de la Escuela Nuestra Señora del Rosario en el parque central de Bluefields, como parte del XXX Aniversario de la Autonomía de las Regiones Autónomas de la Costa Caribe de Nicaragua.
El evento tuvo la participación de niñas, niños, adolescentes, madres, padres, docentes, autoridades del Gobierno Regional, y equipo técnico de FUNARTE y Save the Children.
El objetivo del proyecto TransformARTE es fortalecer el currículo de la Educación Intercultural Bilingüe (EIB) integrando la Psicoafectividad a través del arte.
El trabajo se ha desarrollado con autorización y coordinación de los Directores de las Secretarías de Educación y las delegaciones del MINED de ambas regiones, en las que se involucra directamente a niñas y niños de las escuelas modelos (Escuela Nuestra Señora del Rosario en Bluefields y Escuela Marvin Mitchel en Bilwi), asesores del MINED, personal técnico de las Secretarías Regionales de Educación, directoras, directores y docentes de las universidades, escuelas normales y escuelas primarias, además de a madres y padres.
Nora Liz Rivera, estudiante y parte del grupo que trabajó el mural desde la idea original dijo: "Comenzamos con la región y ya salió la creatividad de pintar frutos o arboles coloridos. Así vamos conociendo más la costa, nuestra región, donde nacimos, conocemos más, aprendemos a pintar y plasmarlo en un muro, donde va quedar por mucho tiempo".
Óscar Cantillano, parte del equipo de FUNARTE y Coordinador del Proyecto TransformARTE mencionó "Lo que queremos es fortalecer que niñas y niños se sientan más seguros, que se identifiquen con su cultura, que se sientan más orgullosos y orgullosas de ser costeños….de hablar en su propio idioma, hablar de su cultura, de su comida".Â
"Gracias a este apoyo de FUNARTE y Save the Children pudimos lograrlo. Las niñas y niños que han demostrado su nivel y sus conocimientos adquiridos, y cómo expresan lo que sienten por nuestra autonomía, en esta pintura de arte" expresó Shaira Downs, Gobernadora de la Región Autónoma de la Costa Caribe Sur, y añadió que continuarán con el compromiso de seguir trabajando y fortaleciendo habilidades creativas de niños, niñas y adolescentes en la región.
"Participar en el mural me ayudó a conseguir nuevas amistades, a trabajar en equipo, a expresar mi arte mejor, la creatividad. También me ayudó a comprender que todos podemos trabajar juntos y hacer un mural mejor" comentó durante la inauguración Donaldo Vallecillo Ortiz, estudiante de la escuela Nuestra Señora del Rosario y participante en la creación del mural.
"Hoy en día miramos que esos jóvenes que han estado recibiendo la enseñanza de FUNARTE y son los mejores en los centros educativos y en las familias y han venido colaborando en una formación de paz y bienestar sobre todos en una tranquilidad familiar" añadió Jorge Ugarte, Secretario de Educación en la Región Autónoma de la Costa Caribe Sur.