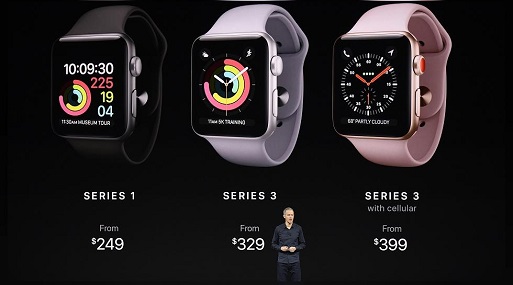 Apple reconoció que su último reloj inteligente, presentado la semana pasada, tiene problemas con su función más importante: su capacidad para realizar llamadas telefónicas y acceder a los datos sin tener un iPhone cerca.
Varios expertos indicaron con anterioridad que no podían recomendar el aparato por problemas de conectividad con los datos celulares.
El precio de partida del Watch Series 3 es de US$ 399 y fue lanzado junto a nuevos modelos del iPhone. A diferencia de versiones previas del reloj, cuenta con una red de conectividad celular incluida.
Apple dijo que el reloj puede sufrir problemas de conectividad LTE cuando se enlaza con redes abiertas de WiFi que requieren una pantalla de ingreso, como hoteles y cafeterías. La compañía está "investigando un arreglo para el lanzamiento de un futuro software", afirmó a Reuters la portavoz Amy Bessette.
Muchos de los que revisaron el reloj, como el diario The New York Times, alabaron sus nuevas herramientas y le dieron evaluaciones en general positivas.
Pero destacadas publicaciones como The Wall Street Journal y The Verge recomendaron no comprar el nuevo modelo porque la conectividad de datos celulares LTE no funciona como se esperaba.
Las críticas dispares afectaron a las acciones de Apple, que caían cerca de un 2 por ciento a las 1923 GMT, a 155 dólares.
Además de los problemas de conexión, algunos expertos quedaron decepcionados con la velocidad en que se consume la batería del reloj mientras se hacen llamadas.
Apple publicitó hasta 18 horas de vida de la batería, pero dijo que el reloj solo tendría una hora en una llamada. Asimismo, Apple también tuvo problemas con el iOS 11, el nuevo sistema operativo lanzado el martes.
Para los usuarios de negocios, la aplicación Mail presentó complicaciones para enviar correos electrónicos a las cuentas de Microsoft Exchange y Outlook.com.
Fuente: Reuters